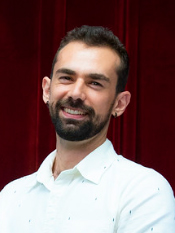 My journey toward earning this degree has been nothing short of a whirlwind. Between completing high school and my bachelor's, I've dropped out of community college, toured the country with top DCI and WGI color guards, and taught a plethora of students, many of whom were my inspiration for returning to school. Though my path may not have been a traditional one, it has led me to Rutgers, and I consider myself extremely lucky today to be graduating as a scarlet knight.
With the incredible EENR faculty here at Rutgers, I've spent the past three years taking in more ecology information than my Jeff Corwin-obsessed ten-year-old self ever dreamed of. I've also found a new passion for the molecular side of biology and ecology. After taking an animal genetics course with Dr. Elizabeth Snyder, she welcomed me into her lab and for the last two years allowed me to dive headfirst into complex molecular biology concepts. During my time at Rutgers, I was also able to fully commit some years to the honors fraternity Phi Sigma Pi, first as an initiate, then as a brother and finally as a member of their E-Board.
Finishing out a B.S. in Ecology, Evolution, and Natural Resources and a certificate in Environmental Geomatics, I will be continuing as a hired research tech in the Snyder Lab. I'll spend my time here studying ribosomal heterogeneity before applying to PhD programs in the winter where I hope to incorporate my knowledge of ecology, evolution, and molecular biology.
A huge thanks to my family who were a huge support for my continuing education, to my friends who pushed me to be more than I ever dreamed I could be, and to the EENR and Rutgers faculty who never stopped believing in me. I can say, without a doubt, that I wouldn't be here today without them.
May 2022