Internships and Research Opportunities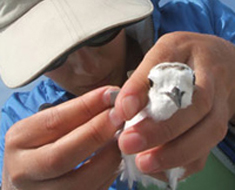 The Department of Ecology, Evolution, and Natural Resources (DEENR) provides a wide variety of research opportunities for students in the 704 major. DEENR undergraduate student researchers study lizard endocrinology, ethnobotany and herbal medicine, resistance of diatoms to infection, bioinformatics of algae, gecko behavior, archeology, and cataloging native bee diversity.
Here are a few examples of EENR undergraduate research projects:

Robert Porch spent the summer as a NSF REU scholar at UC, Berkeley looking at the role of plants in microbial communities. Currently, Robert is doing a GH Cook with Dr. Myla Aronson on urban plant species in human-dominated environments.
Read more about Robert Porch

Steven Mayer worked in Dr. Anne Nielsen's lab over the summer on the distribution and behavior of crop pests in an orchard.
Read more about Steven Mayer

Undergraduate Serena Celestino wins the Rutgers Intern Excellence Award.
Read more about Serena Celestino

Undergraduate Gloria Blaise surveying neighboring areas of HMF and RUEP to investigate whether usage and accessibility impacts user's/visitor's perception and knowledge of a forest site.
Read more about Gloria Blaise

Undergraduate Garrett Hess conducts field work for the US Geological Survey Biological Resources Division. Read More about Garrett Hess

Undergraduate Ramya Kappagantula is studying the invasion dynamics of non-native pests.
Read more about Ramya Kappagantula

Rosy Tucker is a senior majoring in Ecology, Evolution and Natural Resources researching landscape level effects on the distribution of rare bee species across different habitat types in New Jersey.
Read more about Rosy Tucker

Undergraduate Joseph Zientek's research focus is on native pollinators and how they interact with plants.
Read more about Joseph Zientek

Undergraduate Amanda Bevan is a senior majoring in Ecology, Evolution, and Natural Resources.
Read more about Amanda Bevan

Undergraduate Carmela Buono is a senior majoring in Ecology, Evolution, and Natural Resources and joined the CURE (Center for Urban Restoration Ecology) laboratory. Her main interests are in exotic plant invasions and their effects on restoration of urban forests.
Read more about Carmela Buono

STUDENT PROFILE: Kurtis Himmler, student invertebrate expert extraordinaire.
Read more about Kurtis Himmler

Undergraduate Gloria Blaise accumulates practical experience during an internship funded by the Student Conservation Association (SCA)
Read more about Gloria Blaise
Students can earn independent study credits for their research projects. Other students are paid by project grants; in other cases students receive funding through several Rutgers University programs designed to support students interested in research (see links below).
Student to Professional Internship Program
If you are a student interested in finding research opportunities, please refer to the EENR faculty page.