Tess Bender (BS '15)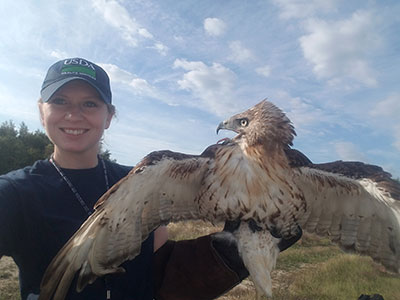 Since graduating from Rutgers in January of 2015, my degree in Ecology, Evolution, and Natural Resources has taken me from discovering new surveying strategies for marten with the NY State Department of Environmental Conservation in the Adirondack Park, to researching sea urchin survival and conservation at the Smithsonian Tropical Research Institute in Panama.
Currently, I am a Wildlife Specialist with the United States Department of Agriculture - Wildlife Services (USDA WS), conducting wildlife hazard mitigation and damage management at John F. Kennedy International Airport in Queens, NY. Through various methods of control, I ensure the health and safety of people and wildlife, and prevent collisions between aircraft and wildlife. My work day includes: gull and geese management, capturing and relocating various birds of prey, managing invasive species populations, pit-tagging diamondback terrapins, and controlling rabies sensitive wildlife populations. I am currently working on becoming a certified Airport Wildlife Biologist, with my long term goal of being a lead Wildlife Biologist with the USDA, and of course, working at an airport!
Working at the busiest international airport in the country, in the largest city in the country has been a wonderful opportunity. Each day brings a new experience and learning opportunity; whether it is handling a peregrine falcon, or helping Dr. Sukhdeo collect species samples for her extensive research on parasites, wildlife management is truly an exciting field to work in!