David Walker (BS '18)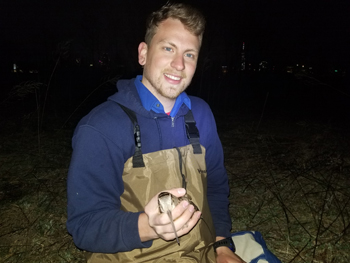 In the year approaching my graduation I took time to explore all of the opportunities afforded by my education at Rutgers University. My interests focused mainly on the examination and study of the surprising levels of biodiversity found within New Jersey State, namely the wildlife. Following that path, I have found myself guided to opportunities that have given me first-hand experience in the fields of wildlife biology and conservation.
Within Liberty State Park, I have been lucky enough to assist another Rutgers EENR alumni, Kathleen Farley, with her research on the American Woodcock as related to courtship and migration behaviors within degraded habitats. Otherwise, I spent the Spring 2018 semester completing a Parasitology Research Internship at The Raptor Trust in Millington, New Jersey. In addition to usual volunteer duties, I was able to explore and attempt to define the host-parasite relationships of avian models which boast contradicting traits of being both ubiquitous and relatively understudied.
As of September 2018, I will be starting attendance in Montclair State University's graduate program wherein I will be pursuing a degree in Biology with a concentration in Ecology and Evolution. It is my hope to be able to continue the research I began at The Raptor Trust and aid in the understanding of the host-parasite complexity.