Carmela Buono (BS '16)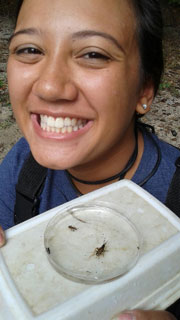 Carmela Buono graduated in May 2016 and continued into her summer working with the Center for Urban Restoration Ecology (CURE) under Dr. Myla Aronson. This is her second summer with CURE and she mainly worked out of the Hutchinson Memorial Forest. She assisted on one project in particular that replicated a vegetative study done in the 1950, 1969, and 1979 comparing different levels of vegetation. In Spring 2017 she hopes to assist with the ephemeral spring flower portion of the study.



In August, Carmela traveled to Fort Lauderdale Florida to participate in the Ecological Society of America's 101st annual meeting. She presented a poster on her George H. Cook honors thesis investigating the effects of Rubus phoenicolasius, also known as wineberry, on forest restoration. When she returned she immediately interviewed for a position with AmeriCorps for their New Jersey Watershed Ambassador Program.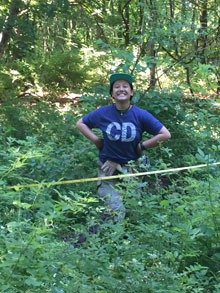 The New Jersey Watershed Ambassador Program (NJWAP) began in 2000 and plays an important role in promoting awareness of how people directly and indirectly affect water quality. Being the most densely populated state in the nation, New Jersey's waters are very vulnerable and NJWAP looks to engage with community members and support empowerment through education and exposure to environmental stewardship. Each year the ambassadors are responsible for educating communities, getting them directly involved with watershed stewardship, and performing visual and biological assessments.

Carmela is now the 2016-2017 Watershed Ambassador for Water Management Area 8, North and South Raritan. Her host agency is the Raritan Headwaters Association and will spend the year utilizing her field, event coordinating, GIS, and data collection experience to empower her watershed. At the end of her term she plans to attend graduate school to pursue her Ph.D. in Ecology.
See the sequel to Carmela's alumni story here
.