Olivia Le Warn (BS '18)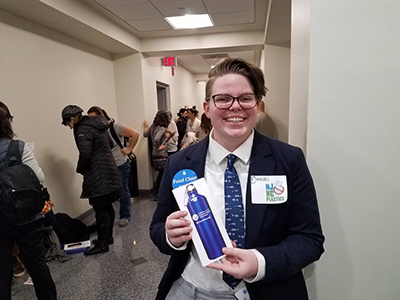 After leaving Rutgers I served with the Americorps NJ Watershed Ambassador Program in Watershed Management Area 4 (Lower Passaic and Saddle Rivers). In that role I taught over 130 educational presentations on water quality, implemented 7 stormwater reduction projects such as a rain garden and rain barrel workshops, and conducted over 30 stream quality surveys.
After my term of service ended I worked with the Hudson River Foundation to perform social assessments at Dundee Island Park in Passaic, New Jersey to determine how people interacted with the park in preparation for a significant renovation. In that role I also assisted with educational programming with the Passaic Recreation Department, that held kayaking and fishing events in conjunction with the surveying.
At the same time I had an internship at Passaic Valley Sewerage Commission in their Engineering Department utilizing GIS to digitize sewer diagrams, field-verify manhole locations, and assist in drone flight exercises, among other duties.
In the fall of 2019 I began working at the Coalition for the Delaware River Watershed as their Engagement Coordinator. I now facilitate our Diversity, Equity, Inclusion, and Justice Workgroup that works to provide resources and presentations about equity and justice for our 150+ members. Alongside the workgroup I coordinate our major events throughout the year including the Delaware River Watershed Forum and annual lobbying day.