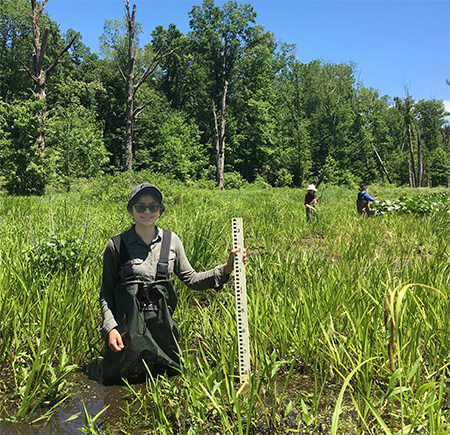 Fascinated by the ways that organisms interact with each other, the environment, and societies worldwide, I always loved observing the world around me. These interests led me to pursuing a major in Ecology, Evolution and Natural Resources at Rutgers University. During the summer of my sophomore year, I assisted Kate Douthat on surveying wetlands and detention basins in New Jersey and Pennsylvania, by setting up transects, collecting soil, water and plant samples, measuring elevation, as well as identifying plants and entering data in Dr. Jean Marie Hartman's lab.
I was new to Environmental Geomatics when I started classes, but it soon became another passion of mine as I analyzed spatial and temporal patterns. During junior year, I worked on a project with Dr. Jason Grabosky and Pamela Zipse, where I tested if i-Tree Landscape can create applicable tree planting prioritization scenarios across urban, rural and suburban areas. During this process, I noticed that low-income neighborhoods tended to have less tree canopy cover than high-income neighborhoods, so for my George H. Cook Scholars Thesis, I have been using GIS tools to identify ideal spaces to grow food forests and estimating the potential benefits of growing food forests in NJ food desert communities. During senior year, I worked with Dr. Marci Meixler on updating instructions for conducting analyses with ArcMap so that they are suitable for ArcGIS Pro for the Intermediate Geomatics course. Along the way, I developed expertise in ArcGIS Pro and challenged myself in overcoming technical issues.
Since I have many interests, my current plan is to gain more hands-on experience with GIS and/or ecology related work to narrow down my long-term goals. The community in the Ecology, Evolution and Natural Resources Department has been very welcoming, and their passions inspire me to keep moving forward. I aim to carry out effective changes in our collective efforts to heal the world!
May 2021