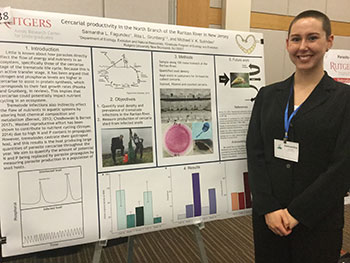 A group of EENR undergraduate students, Samantha Fagundez, Elise McKean and Maxwell Nausbaum, presented posters on their independent research projects at the Mid-Atlantic Chapter of the Ecological Society of America Annual Meeting on April 7th at Rutgers University-Newark. These students completed their research in Dr. Michael Sukhdeo's lab under the supervision of Rita Grunberg (PhD Candidate).
Sam Fagundez is a junior and presented her project "Cercarial Productivity in the North Branch of the Raritan River in New Jersey" and won FIRST PLACE in the undergraduate poster competition (over 70 posters)! Sam is funded by Rutgers ARESTY research program and Luis Stokes Alliance for Minority Participation.
Elise McKean is a junior and presented her project "Parasite Communities of Fundulus diaphanus in River and Lake Ecosystems in New Jersey."
Max Nausbaum is a senior and presented his project "Seasonal Prevalence of Plagiorhynchus cylindraceus in Three Isopod Hosts."
Sam and Elise will also be presenting their research projects at the American Society of Parasitologists meeting in Cancun, Mexico this summer.
April 2018