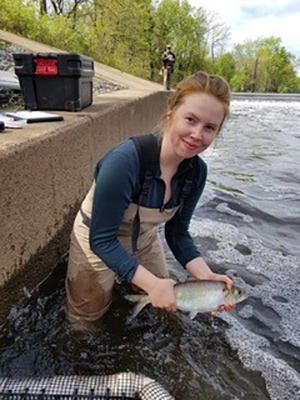 I began my freshman year at Rutgers thinking I would be a Biology major; during my first semester, I realized the Department of Ecology, Evolution, and Natural resources was a much better fit. I began volunteering in Dr. Kimberly Russell's lab during the spring of my freshman year, preparing and pinning bee specimens. Spring lab work quickly turned into summer field work, and I realized how much I loved working outside. During my sophomore year, I pursued more field based research opportunities and began working on the American shad and river herring project in Dr. Olaf Jensen's lab. During the summer before my junior year, I also began working for Dr. Brooke Maslo on a variety of projects including bat research, invasive species management, and pollinator monitoring. Additionally, my involvement with the Rutgers Student Chapter of the Wildlife Society not only provided me with many educational opportunities, but also introduced me to many new friends.
Under Dr. Russell, I used my George H. Cook thesis as an opportunity to look at changes in spider communities over time in both Hutcheson Memorial Forest and Great Bay Boulevard Wildlife Management Area. This summer, I hope to expand on my thesis work while also continuing to work on projects for both Dr. Jensen and Dr. Maslo. I eventually want to pursue a graduate degree in either fisheries science or conservation ecology.
James E. Applegate
James E. Applegate came to Rutgers in 1971, joining the faculty of what was then the Rutgers College of Agriculture and Environmental Science. In 1997 he spearheaded the development of a college wide course called Perspectives on Agriculture and the Environment, and coordinated 30 faculty members in teaching more than 700 first-year Cook College students. He has served as curriculum coordinator in the Natural Resources Department and throughout his career has been repeatedly cited for his excellence in the class room, often times teaching six courses a year. Applegate has received numerous awards for his distinguished career in natural resource education, his commitment to education at the college and in the community, and his consistent excellence in teaching. He continues to teach in the Graduate Program in Ecology and Evolution and is also active on the Endangered and Nongame Species Advisory Committee of the New Jersey Division of Fish & Wildlife.

May 2020