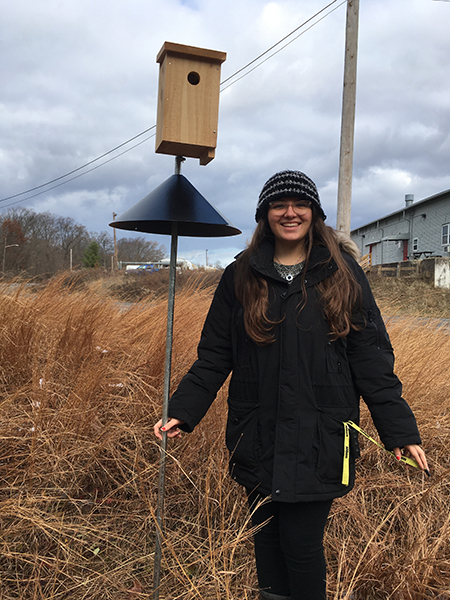 My first hands-on experience in science was at the Chrysler Herbarium working as a credit intern during my sophomore year, and I loved it so much I never left! Currently I'm a lead herbarium intern and have used this experience to inspire my GH Cook senior thesis.
As a rising junior I got my first taste of summer fieldwork with Rutgers Wildlife Conservation and Management planting native trees and wildflowers for floodplain restoration. To continue exploring my interest in native plant restoration I served as an Aresty Research Assistant under PhD student Amy Gage investigating the coastal restoration potential of native Virginia creeper. My time as an Aresty Research Assistant, and later as a paid assistant, with the Handel restoration ecology lab helped to hone my research skills and sparked my interest in pursuing a graduate degree. The following summer I worked under Dr. Myla Aronson in the Hutcheson Memorial Forest improving my native and invasive plant identification skills.
Inspired by my time at the herbarium, I saw my GH Cook senior thesis as an opportunity to use biological collections to better understand the historical effects of urbanization and global change phenomena on host plant-insect relationships to inform restoration efforts. Under the guidance of Dr. Lena Struwe and Dr. Myla Aronson I conducted analysis of herbarium specimens to investigate monarch caterpillar herbivory and native milkweed phenology in response to these historical pressures.
While serving as a FIGS Peer Instructor for an awesome group of students during the fall semester of my senior year, I also wrote a paper on the research I performed in the Handel lab. My Sustainability minor, along with my experience as a FIGS Peer Instructor, has impassioned me about environmental justice, community outreach, and environmental education as well as how the public's awareness and appreciation of the environment relates to urban restoration ecology.
This summer I'll be continuing my independent research, assisting with Duke Farms' bird banding program, and working under Dr. Jason Grabosky to conduct inventories and analyses of urban street trees. After gaining experience working in the field, I intend to pursue a graduate degree researching the effects of climate and urbanization on plant-insect-bird interactions, especially with native wildflower cultivars, to inform restoration efforts. My goal is to hold a career at the crossroads of urban ecology, restoration ecology, urban forestry, and environmental education, working to establish green spaces, implement sustainable initiatives, and create lasting educational programs in urban and suburban areas.
See this story about Eva in the SEBS Newsroom:
May 2021