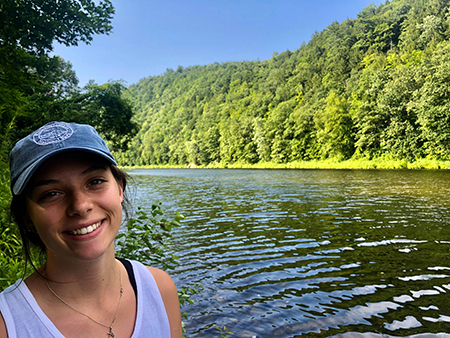 It wasn't until my senior year in high school that I discovered my fascination with nature. I took horticulture as an elective, and in it we learned about plants and experimented with growing our own. I became obsessed with learning more and started to explore this new world coming into light for me, asking many questions. I then went on to study Environmental Science at Brookdale Community College. Upon graduating, I knew I wanted to delve deeper, so I transferred to Rutgers where I majored in Ecology, Evolution and Natural Resources and was determined to learn everything I could in the next two years. This major perfectly encompassed all of my passions and allowed me to gain answers to my burning questions.
During my time at Rutgers, I worked under Dr. Albert Ayeni at the RAREC field station collecting data on pepper plants and other ethnic crops to estimate fruit yield lost to frost at the end of the New Jersey growing season. This study aimed to understand the growth patterns of ethnic crops and how to begin producing them commercially in a temperate climate to satisfy the diverse population of New Jersey. I also volunteered at the Rutgers Floriculture Greenhouse, assisted Dr. Marci Meixler in her Controversies in Sustainability course, participated in an internship under the Douglass Residential College, joined many clubs, and met amazing professors.
While my time at Rutgers was short, it was impactful. I am incredibly grateful for the various opportunities presented that helped me to achieve my degree in Ecology, Evolution and Natural Resources and minor in Plant Science to become the first in my family to graduate college. After graduation, I plan to apply for a field position in the Western United States to gain more experience and further explore the field of ecology. Once I narrow down my interests, I hope to attend graduate school to advance my career.
May 2021