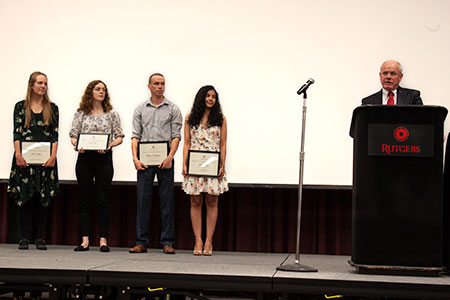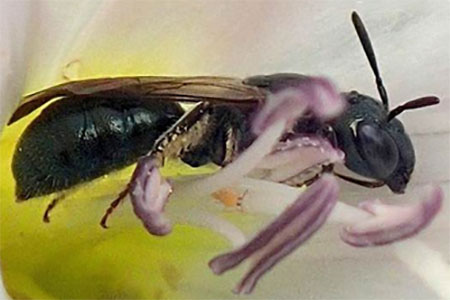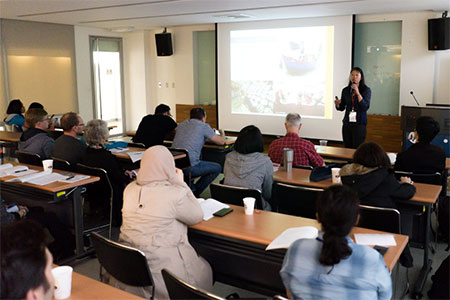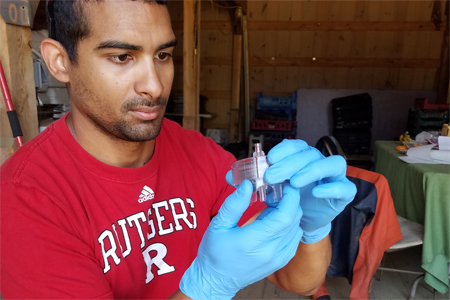 Article in Frontiers of Ecology and the Environment »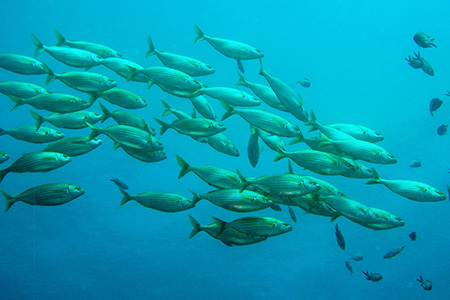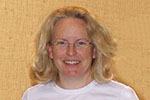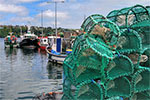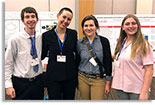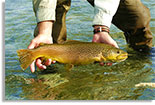 SEBS/NJAES Newsroom Story | Link to Podcast at Beyond Data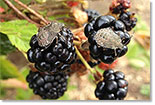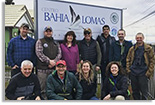 Rutgers Today | SEBS/NJAES Newsroom Story | Conserve Wildlife Blog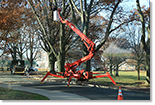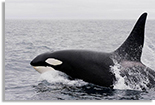 Article in Scientific American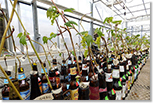 Article in Springer | Washington Post | Smithsonian Magazine | Northjersey.com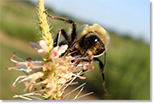 Article in Science | SEBS/NJAES Newsroom Story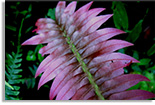 Article in Rutgers Today | Instructions how to sign up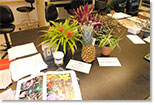 Botany-Depot website link | Rutgers Today coverage | SEBS/NJAES Newsroom story | Botany-Depot facebook page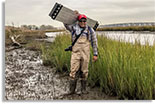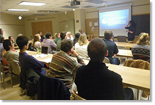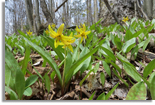 Link to full paper in Global Change Biology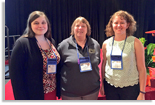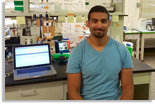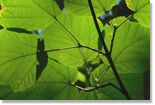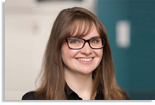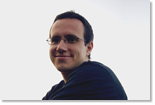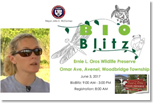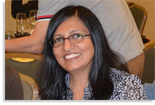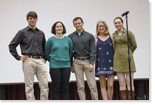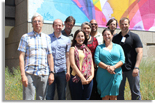 See the SEBS/NJAES newsroom feature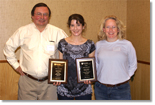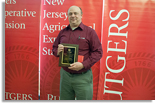 See coverage on the award in the SEBS/NJAES News Room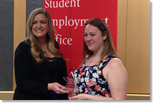 Feature about Megan in Rutgers Today | SEBS/NJAES News Room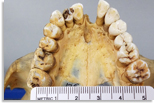 Glad they didn't brush their teeth! »
Graduate student LaShanda Williams studies the human oral microbiome using the Cleveland Museum's Hamann-Todd Osteological Collection.
Read "Using the Collection Today" in John Mangels' museum blog.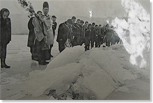 National Geographic Voices blog | York U Press Release | Publication in Scientific Reports
(picture by J.J. Magnuson)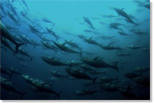 Publication in PNAS | (picture by Aziz Saltik)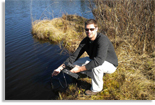 UW-Madison Press Release | "Extremes" Paper in PNAS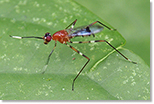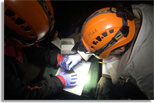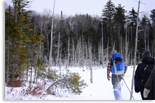 Life in the Cold Song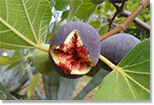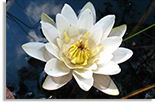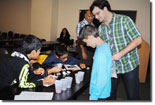 Henry John-Alder portrayed in the SEBS/NJAES News Room
Meet the newest AAAS member in the Spring 2017 Explorations Magazine (page 7/8)

(PDF)

.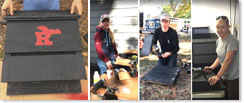 Batty YouTube Video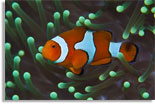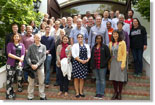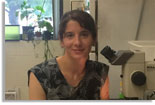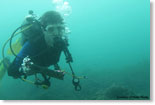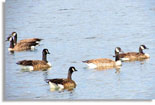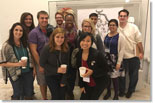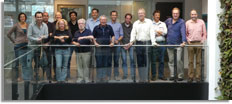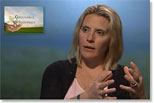 Woodbridge-TV Video

"Amoeba" Paper in PNAS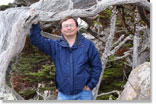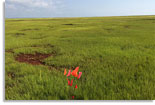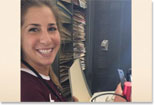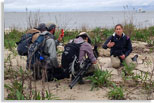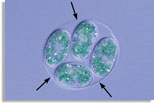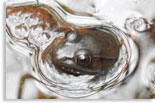 Results on iNaturalist.com | Personal Bioblitz Facebook page



NSF Feature | Coral Evolution Paper in eLife | Biomineralization paper in Proc Roy Soc B

Article in Wall Street Journal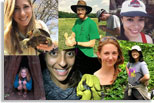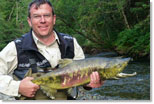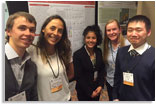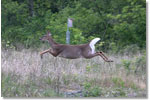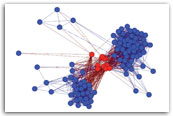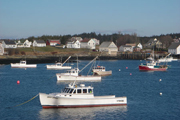 Fish and other important resources are moving toward the Earth's poles as the climate warms, and wealth is moving with them, according to a new paper by scientists at Rutgers, Princeton, Yale, and Arizona State universities.
Malin Pinsky Paper DOI


Strychnos electri is a newly discovered species of the tropical flower genus Strychnos, and the first flower of the giant asterid clade of flowering plants to have been found in neotropical amber. Lena Struwe, a professor in our department, and collaborator George Poinar published their find in Nature Plants.
The fossil is encased in amber that is at least 15 million years old, but looks like it could have fallen off a plant just a few days ago. The Strychnos genus includes many toxic plants, and is part of the Loganiaceae family in the order Gentianales, the same group as coffee, milkweeds, and gentians, a group of plants Lena has worked on for the last 25 years.

Ever wonder how the two most important energy producing machines on our planet, the organelles mitochondrion and plastid got their start? DEENR faculty member Debashish Bhattacharya and his colleagues Steven Ball and Andreas Weber propose in their new Perspectives piece in Science magazine that the endosymbioses that led to their formation were made possible by the role of pathogens. Coverage on Debashish Bhattacharya's Publication in the SEBS/NJAES News Room
Willard Mbewe wins 3rd place poster award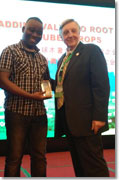 Willard Mbewe, a PhD research scholar from the Makere University in Uganda visiting Siobain Duffy's lab won a 3rd prize award for the best poster during The First World Congress on Root and Tuber Crops in Nanning, China, in January 2016. The conference was held to discuss the significance of roots and tubers, emphasizing cassava as a means to reduce poverty and increase food security for poor farmers and growing populations in developing countries. The award-winning poster was titled Variability in P1 gene redefines phylogenetic relationships among Cassava brown streak viruses (Ipomovirus; Potyviradae). Willard's research indicates there could be a third species of Cassava brown streak virus. The species is not yet named, though the collaborators are calling it Cassava brown streak Tanzania virus.
How to reorganize 140,000 flowering plant specimens


The Chrysler Herbarium here at Rutgers University contains over 200 000 specimens of plants, algae and fungi, and is the only remaining major herbarium in the State of New Jersey. Last week a group of a dozen eager undergraduate students, our own 'herbarium army', started the reorganization of the part of the herbarium containing the flowering plants from the old 1980s system into the modern DNA-based family classification.

In the old system, related plants were not always kept in close proximity to each other within the collection. The whole reorganization is expected to take about 2 months. Afterwards, all folders, family labels, and tags will be updated to prepare for the digitization of the collection in conjunction with a nationwide digitization program. You can follow the students' progress and many botanical discoveries on the new Chrysler Herbarium Facebook page, which is managed by Herbarium Director Lena Struwe, a professor in our department. If you are interested in volunteering, contact Dr. Struwe directly ().
Graduate student Tina Harrison has collected more than 140 different bee species from field sites located throughout New Jersey, Pennsylvania and upstate New York. She has found that pollinator communities in urban landscapes are less variable from site to site compared to pollinator communities in forested or agricultural landscapes.

This suggests that, even though urban bee communities are often locally diverse, continued urban expansion threatens regional pollinator biodiversity. Tina is currently supported by a competitive fellowship funded by our Department's GAANN fellowship program (US Department of Education), titled "Ecology and Evolution in Urban Environments".

Next year, Tina will become a post-doctoral research associate in collaboration with Dr. Rachael Winfree and New Jersey DEP on a project funded by a federal SWAP (State Wildlife Action Plan) grant. The goal of that project is to identify rare or vulnerable New Jersey bee species and use their distributions and life histories to inform future conservation efforts.
Richard Lathrop appointed as new endowed chair for water resource studies

Rutgers Board of Governors named Professor Richard G. Lathrop the inaugural holder of the endowed Johnson Family Chair in Watershed Ecology and Water Resources. In addition to being Professor of Ecology, Evolution, and Natural Resources, Director of Rutgers Ecological Preserve, and Director of the Grant F. Walton Center for Remote Sensing and Spatial Analysis, Rick serves as co-Director of the Sustainable Raritan River Initiative, a joint program of the Edward J. Bloustein School of Planning and Public Policy and the School of Environmental and Biological Science. As Johnson Chair, Rick's keystone project will be to work through the Sustainable Raritan River Initiative with stakeholders in the watershed to balance social, economic and environmental objectives toward the common goal of restoring the Raritan River, its tributaries and its estuary for current and future generations.
Personal Bioblitz results elucidated in paper by Lena Struwe and students

In a truly collaborative effort, Professor Lena Struwe guided a group of graduate and undergraduate students to the publication of their paper describing the Personal Bioblitz in the most recent issue of BioScience,

the journal of the American Institute of Biological Sciences. Personal Bioblitz is the annual species 'scavenger hunt' envisioned and organized by Lena and her team of collaborating students to counter "species blindness" and to foster excitement in observing and learning about everyday biodiversity. The Rutgers Personal Bioblitz was conducted over a period of 75 days starting March 1, and included voluntary participants from all walks of life: from undergraduates to faculty, family, and alumni. The research paper, which was co-authored by six members of the Department of Ecology, Evolution, and Natural Resources (four graduate students, one undergraduate, and one faculty member) and one graduate student from Plant Biology, reports results of Personal Bioblitzes conducted in both 2014 and 2015 (with 11,748 observations from 78 participants in 2015!) and provides information on how to start a personal bioblitz on your own using iNaturalist and other social media tools. Most of the reported species were relatively large, 'charismatic' species of birds, mammals, and large plants, but participants reported "increased ability to "see" species and to identify new groups" regardless of size and taxon. A large majority of participants were eager to join the next personal bioblitz. The authors of the paper were Nicholas B. Pollock, Natalie Howe, Ivelisse Irizarry, Nicholas Lorusso, Ariel Kruger, Kurtis Himmler, and Lena Struwe.
STUDENT PROFILE: Rachel Paseka from Peter Morin's research lab

Rachel Paseka is an Ecology and Evolution PhD candidate working in Dr. Peter Morin's lab. She studies host-parasite interactions through the lens of ecological stoichiometry, a conceptual framework that describes the balance of elements and energy in biological systems. By taking this perspective, Rachel aims to understand how environmental nutrient availability influences parasite success, as well as the effects of parasitism on nutrient recycling in freshwater ecosystems. Although Rachel is partial to all freshwater systems, the majority of her dissertation research is focused on fish and their parasites in streams of the New Jersey Pine Barrens. Crepidostomum isostomum (Platyhelminthes: Trematoda), lives in the intestines of several species of fish in the NJ Pine Barrens.
First bioinformatics research retreat held between SEBS and Camden Campuses

Debashish Bhattacharya (SEBS) and Desmond Lun (Rutgers Camden) organized a research retreat on October 9, 2015 at the Waterfront Technology Center in Camden. The event was sponsored by the Center for Computational and Integrative Biology in Camden and SEBS.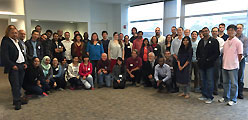 The primary goal was to share research ideas and explore the potential for a jointly administered PhD program in bioinformatics and computational genetics. Five speakers from each campus - including Siobain Duffy and Debashish from DEENR - presented their work, followed by a breakout session to discuss common research areas and possibilities for joint training grants and teaching opportunities. The field of evolution was considered to be a key unifying theme across the diverse interests represented at the workshop that spanned ecology to genomics to computer science and engineering.
Dr. Brooke Maslo and colleagues awarded grant to study the effects of White-nose Syndrome on bats

Despite catastrophic declines in North American bat populations from White-nose Syndrome, some bats appear capable of tolerating and surviving repeated infection.

Brooke Maslo is interested in finding out why, and with the help of two federal grants from the U.S. Fish and Wildlife Service, she has the tools to do it. In the first project, Maslo and her departmental colleagues, Malin Pinsky and Nina H. Fefferman, will explore the potential for bats to evolve rapidly under natural selection in the face of disease. The second project is focused specifically on how White-nose Syndrome affects the federally threatened Indiana bat.
Natasia Jacko from the Duffy Lab wins ASM undergraduate fellowship

Natasia Jacko, a third year SAS student majoring in Microbiology and minoring in Public Health, has been awarded a 2015 Undergraduate Research Fellowship from the American Society for Microbiology and has been invited to present her findings at next year's ASM general meeting in Boston, Massachusetts. Natasia has been working with Siobain Duffy for over a year, searching for plant viruses from New Jersey to Georgia. Specifically, Natasia is looking for begomoviruses that often are undetected in weeds and native plants, but are transmitted by whiteflies from these uncultivated hosts into crops, where they can cause severe disease, crop loss and famine. While begomoviruses are already present in the western and southern United States, their range is predicted to expand as climate change allows their most effective whitefly vector, the invasive Mediterranean Bemisia tabaci, to overwinter in more northern states.
Natasia has determined that populations of B. tabaci have yet to reach crops in New Jersey, but she is collecting whiteflies from states along the eastern seaboard to determine what specific begomoviruses are being transmitted by B. tabaci whiteflies in states not known to have begomovirus diseases. This proactive research will help New Jersey and states along the east coast prepare for potential begomovirus-caused diseases in our crops.

During the international Botany 2015 conference in Canada, Lena Struwe received the Innovation in Plant Systematics Education Prize for her excellent and novel way of teaching botanical biodiversity to college students. The prize was given out by The American Society of Plant Taxonomists and they motivated their selection based on Lena's "enthusiastic nature, her tireless energy for research and outreach, and her inspirational teaching style that combine to make her an outstanding advocate for the fields of botany and plant systematics", as written by an ASPT member. During the last decade she has developed a large amount of combined teaching and research projects at Rutgers that directly involves students, staff, alumni, and faculty in plant biodiversity learning and discovery, such as the Personal Bioblitzes of 2014 and 2015, the Flora of Rutgers Campus (PDF) (species checklist), and the newly started iNaturalist project named Flora and Fauna of Rutgers University.
Rutgers has a long and eminent history in botany from the great professors Marion Buell, David Fairbrothers, and others. Lena has revitalized the botany program through courses, public outreach, and mentoring. This semester she is teaching 60 students in Plant Diversity and Evolution/Plant Systematics, as well as a freshman Byrne seminar on "Weeds - What are they good for?". "Through her work as an innovative scientist and by incorporating popular media and cutting-edge educational technology, Lena has increased the visibility of systematic botany. Her publications, blogs, and public outreach make Lena a prime example of a 'complete' educator", as described in the ASPT press release.
ASPT press release

If you watched the recent movie "Star Trek Into Darkness", you might still remember the weird planet Nibiru that is covered with red plants. As absurd as it may sound, this could have been the situation on Earth. Then, why are most grasses and plants green and not red? A new paper led by Huan Qiu, a research associate in Dr. Debashish Bhattacharya's lab provides an intriguing answer. Huan analyzed a comprehensive genome database that included red algae and their sister lineage, the green algae (including land plants). He found that the red algal common ancestor suffered severe losses of important genes and functions.
The team postulated that this was likely caused by life in a very stressful environment over a billion years ago that forced the red algal ancestor to shed hundreds of genes to compete with other microbes. This loss likely made them less able to compete with the gene-rich green algae that ultimately conquered land giving rise to plants.
SEBS news J Phycology Paper DOI
City Bees: graduate student Tina Harrison publishes paper in Functional Ecology

In a paper titled "Urban Drivers of Plant-Pollinator Interactions", graduate student Tina Harrison reviewed urban drivers of plant-pollinator interactions for the July, 2015 issue of Functional Ecology, a special issue on urban ecology. Co-authored by advisor Dr. Rachael Winfree, this contribution is particularly apropos because Tina is a Fellow on the Department's GAANN (Graduate Assistance in Areas of National Need, US Dept Education) project, titled "Ecology and Evolution in Urban Environments". Harrison and Winfree present urbanization as a "unique and productive study system" for investigating effects of global change on pollinator ecology.
For her Ph.D. dissertation research, Harrison is focusing on how urbanization and agriculture affect bee diversity, in terms of both the number of species and the variation in traits. Her most recent analysis, titled "Urbanization Homogenizes Traits Within and Between Bee Communities", leads a large representation of Rutgers graduate students presenting their work at the 2015 Baltimore meeting of the Ecological Society of America. Upon her return, Harrison will complete her dissertation before continuing as a post-doctoral research associate with Dr. Winfree to study the diversity, abundance, and conservation needs of bees in New Jersey.

A new paper by Malin Pinsky and David Byler (Princeton University) out in Proceedings of the Royal Society B reveals a counter-intuitive pattern: ocean species that grow quickly and reproduce frequently (think sardines, anchovies and flounder) are more likely to experience dramatic plunges in population than larger, slower growing fish such as sharks or tuna. Why is this counterintuitive? Because for life on land, the situation is in nearly the opposite. Rabbits, for example, are doing pretty well compared to rhinos.
Additional news coverage: BBC News, International Business Times, ClimateWire
Chelcey Nordstrom (EENR '15) Wins Undergraduate Presentation Award at NAFEA

Recent graduate Chelcey Nordstrom (EENR '15) is no stranger to awards, having won the 1st place STEM Award from Meade Senior High School in Anne Arundel County, the Roger Locandro Award from the Department of Ecology, Evolution, and Natural Resources for the Outstanding Student in Natural Resources, and most recently, the Undergraduate Presentation Award from the North American Forensic Entomology Association (NAFEA). Chelcey traveled to Missoula, MT to present her George H. Cook honors thesis, titled "Insect Colonization and Decomposition of Pig Carcasses in Varying Sunlight", at the annual meeting of NAFEA, which met jointly with the Society for Wildlife and Forensic Sciences. Upon returning, Chelcey resumed her studies with Dr. Brooke Maslo on the effects of commercial oyster aquaculture on the foraging behavior of federally threatened red knots during their migratory stopover in Delaware Bay.

Dr. Rachael Winfree recently published an article in Ecology Letters (featured by Nature as a research highlight (PDF)), which shows that the major contribution to crop pollination in New Jersey and Pennsylvania is provided by a few common native bee species, whereas many rare species contribute little to this vital ecosystem function. In a large, international study published this month in Nature Communications, Dr. Winfree and colleagues reported that wild bee species provide significant crop pollination services averaging over $3,000 per ha per year, but that these services are provided by only 2% of the species found in the countries where the research took place. Together, these studies suggest that if other ecosystem services are similar to crop pollination, then efficient conservation of ecosystem services would target only a few common species.
Unfortunately, such conservation actions would likely be insufficient to support threatened species. Hence, conservation of the biological diversity, at least of bees, should be motivated not only by immediate benefits from ecosystem services, but by the full richness of arguments for conservation. Co authors from Dr. Winfree's lab are postdoc Dr. Dan Cariveau, postdoc Dr. James Reilly, graduate student Faye Benjamin, and Winfree lab alumnus Dr. Ignasi Bartomeus.
Additional news coverage: wired.com, conservationmagazine.com, natureworldreport.com, latimes.com, sciencedaily.com, qz.com, independent.co.uk, theguardian.com, washingtonpost.com

With red knots and ruddy turnstones in hand, students in the undergraduate Field Techniques course contributed to the success of the annual Delaware Bay Shorebird Project. Their participation in this activity is an annual happening under the tutelage of Professor Rick Lathrop and the watchful supervision of alumnus Dr. Larry Niles of LJ Niles Associates LLC, head of the International Shorebird Project and the Habitat Conservation Initiative of Conserve Wildlife NJ, and alumna Dr. Amanda Dey of the Endangered and Nongame Species Program in NJ Department of Environmental Protection.
Slim Karkar publishes a paper in PNAS on the evolution of metabolic connectivity in algae

Slim's paper in the Proceedings of the National Academy of Sciences USA (PNAS) is part of a collaborative research project in the Bhattacharya lab with Dr. Andreas Weber in Germany on the evolution of metabolite transporters that line the inner membrane of photosynthetic organelles, the plastids. Plastids are the workhorses of primary production on our planet and provide the air we breathe. Using genomics and cell biology Slim and his co-authors figured out that most plastid transporters are of host nuclear origin with some key components provided by foreign bacteria through horizontal gene transfer (HGTs). This work supports the hypothesis that the creation of new organelles is directed by the host cell, with the endosymbiont making a smaller contribution to host-plastid connectivity. Slim's work and ideas can be incorporated into the nascent field of synthetic biology, whereby scientists are trying to engineer artificial symbioses that provide platforms for biofuel or other biotechnological uses.
While in the Bhattacharya lab, Post-doctoral fellow Slim Karkar was supported by a collaborative Gordon and Betty Moore Foundation grant led by Paul Falkowski and took part in research that addressed redox enzyme evolution in deep time. He has completed his research stay at Rutgers, New Brunswick and is now employed at our sister institution in Camden. There, he is working with bioinformaticist and systems biologist Prof. Desmond Lun.
Welcome Nazia Arbab – New Postdoctoral Associate in the Center for Resilient Landscapes

Dr. Nazia Arbab has taken the position of post-doctoral associate in the Center for Resilient Landscapes. Dr. Arbab holds an M.S. in Applied Sociology from the University of Texas at Dallas and a Ph.D. in Natural Resource Economics from West Virginia University. She completed her dissertation in December 2014, titled "Application of a Spatially Explicit, Agent-Based Land Use Conversion Model to Assess Water Quality Outcomes under Buffer Policies." Dr. Arbab will be conducting interdisciplinary research with Dr. Jason Grabosky as well as other Rutgers faculty and USDA Forest Service scientists, and designing policy tools for social-ecological system resilience. She will be studying disturbance regimes prevalent in New Jersey and the surrounding region. Her research interests include socio-ecological systems, natural resource management, land use change and water quality issues. She enjoys model building, theory and research methods from a multidisciplinary perspective including natural resource economics, geography, hydrology, landscape, and ecology.

Can we find new species in a metropolis? In the NBCnews.com story about the discovery of 30 newly discovered fly species in Los Angeles, Dr. Myla Aronson provides additional insights from her studies about bird species in urban centers. Even though "urban areas only retain about 8 percent of the bird species that otherwise would have lived in the area", Dr. Aronson and her team found that 20 percent of known bird species live in big cities. "Bird species found in big cities reflect the species that live in the surrounding natural habitat." In her study which included 54 cities around the world, "New York City and Singapore stood out as particularly diverse" -- NYC because of its spacious city parks and Singapore because of the national park just outside its city limits. "It is important to plant native shrubs and not just grass and trees in cities to keep biodiversity high, Myla Aronson says." ("emphasized" text is taken directly from the article by Keith Wagstaff, NBCnews.com.
DEENR scientists awarded a grant to start a global working group on plant evolution at Rutgers

DEENR scientists Lena Struwe and Myla Aronson in cooperation with Laura Schneider (Geography), Wolfram Hoefer (Landscape Architecture), and graduate student Lauren Frazee (Ecology & Evolution) received a $10,000 grant from the Rutgers Centers for Global Advancement and International Affairs (GAIA). The fund will be used to organize an interdisciplinary workshop and an international symposium to be held at Rutgers. The goal is to establish long-term international collaborations on how the evolution and distribution of wild plants ('weeds') in urban and temperate areas across the globe have been and will be affected by human migration, climate change, and increased urbanization.

EJ Green (on the left side) joins his father Ed Green from DEENR on the stage during the Spring Awards ceremony of the Graduate School–New Brunswick. Father Ed won the award for "Excellence in Graduate Teaching" and his son EJ Green who is enrolled in the Department of Philosophy won the Dean's Award for Excellence in Research for his dissertation, "Seeing the Structure of Objects". Also awarded during the ceremony were DEENR graduate students Cara Faillace and Talia Young.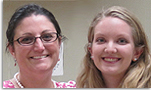 Eliana Geretz, a graduating senior, has been awarded a Young Botanists Award from the Botanical Society of America, Inc. Eliana, pictured here to the right of her supervisor Dr. Myla Aronson, was recognized for her investigation of the distribution of mosses (bryophytes) in the Philadelphia metropolitan region over time and across an urban-rural gradient. Eliana examined tree mosses in 15 parks from Philadelphia's city center to the outer suburbs. Over the summer of 2014, Eliana surveyed each park, identifying the mosses and trees within each park. She also synthesized 5 historic floras of Philadelphia ranging from the 1700s to the early 1900s for all bryophyte species.
Dr. Siobain Duffy receives prestigious Rutgers awards

Newly tenured Siobain Duffy received the Board of Trustees Research Fellowship for Scholarly Excellence and a Presidential Fellowship for Teaching Excellence in recognition of her outstanding scholarly and teaching accomplishments at Rutgers University. Siobain pursues a remarkably integrative cross-section of techniques and questions in her research on viral evolution, and her combination of pure and applied approaches has ensured the translational relevance of her research with the potential for practical application of evolutionary principles. Her teaching is outstanding in its breadth and novelty, and her commitment reflects an astounding level of engagement in course development and teaching. Siobain's awards are richly deserved -- Departmental congratulations go out to Siobain!
Plants of the future - superevolutionary plants thrive in extreme environments on campus

How would you like to live in an asphalt crack? You wouldn't! Yet the plants that inhabit these extreme habitats are not only surviving, but thriving. Dr. Lena Struwe, leads a team of researchers studying these "super-evolutionary" weeds in the first of two new episodes on urban plants.
watch the video

Ryan's research in Dr. Michael Sukhdeo's lab on understanding the relationships between the diversity of macroparasites and their vertebrate and invertebrate hosts led to an award winning poster in the Ecology, Evolution & Environmental Science poster presentation in the Annual Undergraduate Research Symposium at William Paterson University.
Undergraduate research on bees led by Dr. Daniel Cariveau portrayed in The Daily Targum

Undergraduates Rosemary Tucker and Kurtis Himmler, with post-doctoral associate Dan Cariveau, are examining whether bee traits such as body size and tongue length can predict which flowers species bees visit. Featured in The Daily Targum their work furthers our understanding of the ecology and evolution of plant-pollinator relationships and has important implications for choosing plant species to best conserve native bee communities. Kurtis and Rosemary are funded through the Aresty Research Assistant program; come see their presentations at the Aresty Science Symposium on April 24th.
A study conducted by DEENR graduate program alumna Andrea Egizi, Dr. Nina Fefferman from DEENR and Dr. Dina Fonseca from the Department of Entomology finds global warming may have hidden impacts on disease risk assessment.
Dr. Lena Struwe was elected to the Board of Directors for OTS

Dr. Lena Struwe has been elected to a 3-year term on the Board of Directors for the Organization of Tropical Studies (OTS). In her new capacity, Lena joins Dr. Ben Lintner from the Department of Environmental Science, who serves on the OTS Science Committee. OTS offers intensive field courses for undergraduates, graduate students, and natural resource professionals in tropical biology and related disciplines in Costa Rica and South Africa, and maintains research stations available to scientists, postdocs, and graduate students in three ecologically diverse ecosystems in Costa Rica. Rutgers University is one of nearly 60 member institutions of OTS, an international nonprofit consortium of universities, colleges, and research centers. For more than 50 years, OTS has been a leader in education, research and the responsible use of tropical natural resources, and has more recently expanded into the area of global public health. The interests and activities of OTS are exemplified by the OTS-funded working group titled "Emerging Frontiers in Tropical Science", organized by Ben around the theme of coupling vegetation and climate processes. Please contact Lena or Ben to learn more about the extensive field course or research opportunities at OTS.
Four members of the Department of Ecology, Evolution and Natural Resources will be addressing impacts of climate change and rising sea level on coastal urban ecology in Jamaica Bay. Dr. Marci Meixler, in collaboration with the Wildlife Conservation Society, Cornell University and economists at Rutgers-Newark, will model climate resiliency in the Jamaica Bay ecosystem, evaluate system responses to adaptation and restoration strategies, and identify sources of vulnerability. In the second project, Drs. Handel, Kaunzinger, Aronson, and Meixler will assess Hurricane Sandy's impact on coastal vegetation and related ecosystem services, predict responses of coastal vegetation to climate change, and evaluate opportunities for ecological resilience using an experimental program to test the potential for habitat migration during sea level rise. These projects are funded by Department of Interior's Hurricane Sandy Mitigation Fund, managed by the National Park Service and coordinated by consortium known as the Science and Resilience Institute at Jamaica Bay.

Elizabeth (Liz) Newton (left, above center), a senior EENR major advised by Dr. Brooke Maslo, reported her research on bear activity in northwestern New Jersey at the October meeting of the New Jersey chapter of The Wildlife Society. Newton merges data from her own ecological research with data on the occurrence of bears, collected by the New Jersey Department of Environmental Protection's Division of Fish and Wildlife. With their data, they generated a maximum entropy "heat map" that depicts predicted hot and cold spots for bear activity. Newton then manipulated the map to predict bear habitat overlap with agricultural areas, which can help farmers prevent bear damage to their crops.

Six years after first encountering a new species of leopard frog on Staten Island, Graduate Program in Ecology and Evolution PhD candidate Jeremy Feinberg and colleagues recently announced their findings in PLoS One. Feinberg and his collaborators used molecular and bioacoustic techniques to confirm that the Atlantic Coast Leopard Frog, Rana kauffeldi, was indeed distinct from two very similar leopard frog species. Since Feinberg's discovery, Rana kauffeldi has been recorded in eight eastern states and several major cities, which gives the optimistic result that new biodiversity can be discovered even in very well-studied metropolitan areas. Its name, kauffeldi, pays homage to late Staten Island Zoo director Carl Kauffeld, who in 1937 made claims that a new frog species existed in New York.
"Hiding in plain sight" in Rutgers Today
Brooke Maslo Receives Women & Wildlife Award

Congratulations to Dr. Brooke Maslo, who has just been awarded a Women & Wildlife Award from the Conserve Wildlife Foundation of New Jersey! The awards celebrate "outstanding women for their achievements and advances in protecting New Jersey's endangered and threatened wildlife species." Maslo's research incorporates the needs of endangered shorebirds into novel designs for post-Hurricane Sandy shore restoration. Another area of Maslo's work looks into factors determining bats' survival from a fungal disease that has decimated bat populations. Maslo will be recognized at an awards reception and silent auction to benefit the Conserve Wildlife Foundation.
Last June, undergraduates Amanda Bevan and Aishwarya (Ash) Bhattacharjee traveled to Borneo as part of a Rutgers study-abroad program in Primatology, Ecology, and Conservation, led by Professors Erin Vogel and Rob Scott. They found the experience to be both challenging and rewarding: it pushed them beyond their personal comfort zones and tested their physical endurance, but the academic and cultural rewards were life-changing.