Kiera Malone Awarded the 2019 Cookingham Scholarship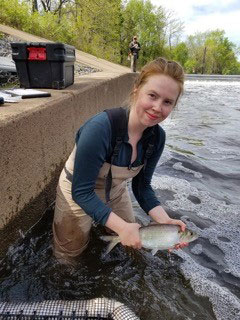 Kiera Malone (SEBS '20), a senior in the Ecology, Evolution, and Natural Resources Department, was awarded the 2019 Cookingham Scholarship, an annual $1000 scholarship made possible by an endowment from Russell A. Cookingham, former Director of the New Jersey Division of Fish and Wildlife. It is intended to assist qualified students in the wildlife/fisheries field or in the conservation education/communication field with college and related expenses. The NJ Division of Fish and Wildlife and the NJ Chapter of The Wildlife Society partnered in the selection and award of the scholarship.
Kiera is persuing a certificate in Environmental Geomatics and a minor in Fisheries. She currently works with Dr. Olaf Jensen in studying anadromous fish passage and helps to conduct bat research with Dr. Brooke Maslo. Under the supervision of Dr. Kimberly Russell, Kiera is working on a George H. Cook thesis, which examines how spider community composition has changed over time. Kiera Malone is also the president of The Rutgers Wildlife Society Student Chapter.
Congratulations Kiera!
January 2020