Moore Foundation Grants $1.2 Million to Support Progress on Mid-Atlantic Ocean Data Portal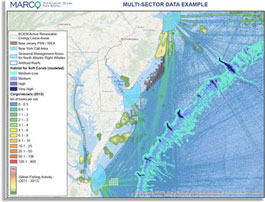 A collaboration between Rutgers Center for Remote Sensing and Spatial Analysis (CRSSA), the Edward J. Bloustein School of Planning and Public Policy, The Nature Conservancy and Monmouth University's Urban Coast Institute (UCI) has received a $1.2 million Gordon and Betty Moore Foundation grant to continue the development of the Mid-Atlantic Ocean Data Portal (portal.midatlanticocean.org). The Rutgers Team is led by Rick Lathrop (CRSSA) and Jeanne Herb (Bloustein); Monmouth's UCI is the project lead. The Portal was initiated under the guidance of the Mid-Atlantic Regional Council on the Oceans (MARCO) with previous funding provided by the Moore Foundation in 2015 and the National Oceanic and Atmospheric Administration in 2013.
The Ocean Data Portal is a free, state–of–the–art mapping and information site focused on ocean areas from New York through Virginia and offers a selection of over 200 layers depicting human activities and natural processes taking place at sea. The Portal has served as a key information source for a historic first-ever Draft Mid-Atlantic Regional Ocean Action Plan produced by a Regional Planning Body composed of representatives from six states, tribal entities, federal agencies and the Mid-Atlantic Fishery Management Council. In addition, it supports the work of MARCO, a partnership of the governors of Delaware, Maryland, New Jersey, New York and Virginia. The Portal has grown in importance as an ocean planning tool, particularly for its ability to illustrate where there are possible conflicts – for example, between a potential offshore wind site and shipping traffic – and compatible uses at sea.
August 2016 by Richard Lathrop