Aquaculture is a burgeoning industry along the Cape Shore of New Jersey, benefitting from a rising public interest in boutique oysters for the half-shell market (termed the Oyster Renaissance).
The Cape Shore region also is a critical migratory stopover site for an endangered shorebird, the red knot. The majority of the individuals of the rufa subspecies of red knot visit Delaware Bay during their spring migration north from their wintering grounds in the southern reaches of coastal Argentina to their breeding grounds in the Canadian Artic.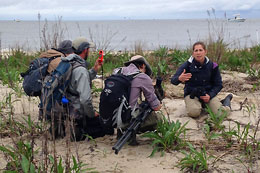 This 7000+ mile migratory journey is energetically taxing, and red knots must stop and 'refuel' along the migratory pathway. The red knots rely heavily on the lipid-rich eggs deposited by spawning horseshoe crab females to gain enough weight to complete their migration and begin their breeding season within the Arctic.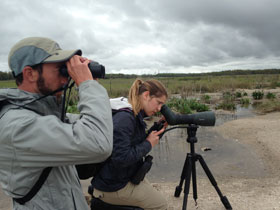 Horseshoe crabs deposit eggs over a 3- to 7-week window each spring, and red knots have evolved over millennia to time their migration, and stopover, to take advantage of this energetically rewarding food source during the brief period it is available. Intertidal oyster aquaculture occurs within portions of these same tidal flats used by red knots, thus challenging regulatory agencies to develop oyster-tending guidelines that minimize negative impacts to red knots without compromising farm viability.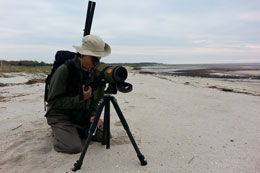 A team of Rutgers scientists and students has begun research to document the potential impacts of oyster aquaculture activities on red knot foraging. The study is headed by Brooke Maslo, Julie Lockwood, Dave Bushek and Joanna Burger, and funded by New Jersey Sea Grant. The study's results are key to identifying and resolving potential conflict between the oyster aquaculture industry and red knot conservation groups.
June 2016