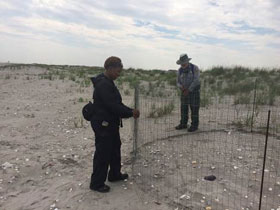 "This is me assisting with the enclosure of a piping plover nest. If you look close enough you can see the clutch at the center. For the most part I have been helping with the monitoring of the birds, putting up symbolic fencing, assembling alternate boardwalk paths to provide a detour (a few plover nests are too close to the fencing) for beach visitors, away from the plover nests. This is all happening in areas all around Gateway in the Queens and Brooklyn areas."

Gloria's internship is funded by the Student Conservation Association (SCA) through a partnership with the National Park Service (NPS).

During this internship students work alongside NPS Biologists and Biological Science Technicians to conduct the inventory, monitoring, protection and management of wildlife, vegetation and other natural resources in the Jamaica Bay Unit of Gateway National Recreation Area. The interns provide vital support to the Threatened and Endangered Species Program which entails the following: monitoring and protection of the federally listed piping plover and sea beach amaranth, recording biological data in a predetermined format, constructing fencing for the protection of listed species and assisting with nesting tern surveys. The interns also provide support for the inventory and monitoring of snakes, frogs and other herpto fauna, assist with invasive vegetation control, invasive and native plant survey and general natural resource management tasks.