With red knots and ruddy turnstones in hand, students in the undergraduate Field Techniques course contributed to the success of the annual Delaware Bay Shorebird Project. Their participation in this activity is an annual happening under the tutelage of Professor Rick Lathrop and the watchful supervision of alumnus Dr. Larry Niles of LJ Niles Associates LLC, head of the International Shorebird Project and the Habitat Conservation Initiative of Conserve Wildlife NJ, and alumna Dr. Amanda Dey of the Endangered and Nongame Species Program in NJ Department of Environmental Protection.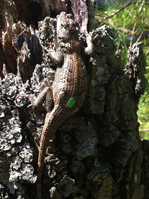 This year, an estimated 24,000 red knots migrated through Delaware Bay to feed on horseshoe crab eggs en route to nesting grounds in the high Arctic. Red knots are protected as threatened species under the federal Migratory Bird Treaty Act and are NJ-listed as endangered. These iconic shorebirds are of particular interest because of their dependence on horseshoe crabs, whose numbers have declined precipitously from historic highs, and because their stopover in New Jersey occurs when oyster farms are being tended along the Delaware Bay shore.

Participation in the Shorebird Project is always one of the highlights of the Field Techniques course in May, which includes hands-on projects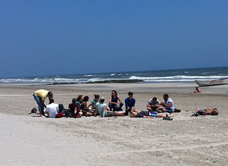 with trees in Stokes State Forest, with lizards at the Pinelands Research Station, and with estuarine and marine creatures at the Marine Field Station not to mention a farewell lunch on the beach in Stone Harbor. Dr. Niles received the students' help enthusiastically and made sure that each student was able to handle the birds to make measurements and record data a truly unique experience for students in Ecology, Evolution, and Natural Resources.


Henry John-Alder, June 2015