From the event website: "As a part of the only international series of conservation conferences featuring students, SCCS–NY provides opportunities for emerging scientists to professionally network, gain experience, and present and get feedback on their work.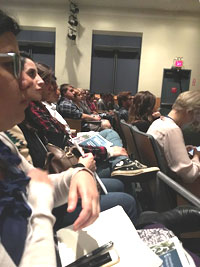 Interactions with peers as well as leaders in science, policy and management will encourage collaborations, inspire further research, and create lasting professional connections.
SCCS–New York is a sister conference to the highly successful SCCS–Cambridge, begun in 2000 by the University of Cambridge, and including now SCCS–Bangalore, SCCS–Australia, SCCS–Beijing, and SCCS–Hungary."

Dr. Russell served as a faculty mentor at the event, giving structured feedback to speakers and poster presenters as well as interacting with the early-career and student attendees. Eleven Rutgers undergraduates currently enrolled in ENR 499 taught by Drs. Russell and Ehrenfeld attended the event on Thursday 10/22/16.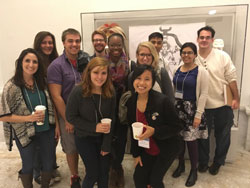 Students saw talks given by graduate students and young professionals from throughout the world organised into the following sessions: Indigenous Perspectives, Social-Ecological Systems, Tools and Techniques as well as a variety of speed talks on applied conservation topics. Students also participated in Mentor-Hosted tables where they discussed topics of interest with faculty mentors and other attendees while eating lunch. After a whirlwind tour of the Invertebrate Zoology collections given by Dr. Russell, students interacted with poster presentors and representatives from various graduate programs and potential employers at a combined poster session and job fair in the Hall of Primitive Mammals and Ornithischian Dinosaurs.
Student Conference on Conservation Science - New York
November 2016